Kit de prensa española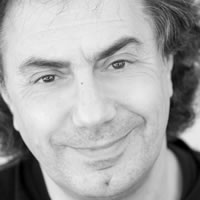 Si "World Music" es música que rinde homenaje al espíritu de la diversidad de seres humanos a través de distintos ritmos, instrumentos tradicionales y colores armónicos, el guitarrista Franco-Argelino, cantante y compositor Pierre Bensusan puede ser reconocido como uno de los más elocuentes y diferentes músicos del mundo de nuestro tiempo.
Nacido en Oran, Argelia Francesa, en 1957, cuando Francia se retiró de sus colonias, la Famila de Pierre Bensusan se trasladó a Paris cuando tenía 4 años. Comenzó estudios formales de piano a la edad de 7 años y a los 11, de manera autodidacta, de guitarra. Influenciado en aquellos primeros momentos por la explosión de la música Folk. en Gran Bretaña, Francia y Estados Unidos, Bensusan al principio comenzó a explorar su propia herencia musical para luego avanzar hacia horizontes más lejanos. A los 17 años firmó su primer contrato discográfico, y un año más tarde su primer álbum, Pre de Paris, ganó el Gran Prix du Disque tras su debut en el festival de Montreux en Suiza. Definido por el L.A. Times como "uno de los más singulares y brillantes veteranos guitarristas acústicos en la escena "World Music" del momento, Pierre Bensusan fue votado como "Mejor guitarrista de "World Music" en 2008" por los lectores de Guitar Player Magazine.
Su nombre ha llegado a ser sinónimo de genio de la guitarra acústica contemporánea, mucho antes que términos como New Age, New Acoustic Music o World Music fueran inventados. Tiene la habilidad de hacer sonar a una simple guitarra como una banda entera que lleva a la audiencia a un viaje memorable. Además, Bensusan es más de lo que un músico o amante de la música podría esperar de un guitarrista. Es compositor e improvisador vocal, mezclando silbidos, resonantes notas bajas con algo como su propia técnica de "Scat".
Hay una sensación de frescura y seriedad en su trabajo, un sentido único de la libertad en sus composiciones e improvisaciones. Su manera de tocar es inclasificable, pasando por el World, clásico, jazz, tradicional, folk y más. Ninguna puede ser aislada como simplemente "Brasileño", "Árabe" o "Francés, por el contrario representan nuestro mundo en su estado actual, un mundo compartido en si mismo, fusionando culturas de un modo sin precedentes. ¡No es para perdérselo!
'Night Song' in concert at the Institute of Musical Traditions (www.imtfolk.org), Takoma Park, Maryland, USA on May 23, 2012.
Puedes ver más videos →
300 fotos de alta resolución dpi para impresión










Una introducción al mundo de Pierre
Premios
* Guitar Player Magazine Readers choice award, for 2008 Best World Music Guitar Player, in the USA
* 2002 AFIM (American Association for Independent Music) Award for Best Acoustic Instrumental Album
* Album du Mois/Album of the Month (Journal de Montreal/Canada)
* Album of the Year (fRoots/UK)
* Best Albums (Guitarist Magazine/UK)
* Bravo de la Redaction (Trad. Mag./France) 2002/2006
* Naird Award (USA 1983)
* Grand Prix du Disque Montreux Festival (Switzerland 1976)
Selección de Lecturas y Cotizaciones