Dossier de presse en français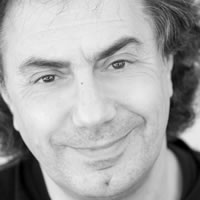 "La guitare voudrait sonner exactement comme ça, si elle jouait toute seule."
Elu Meilleur Guitariste de World Music par les lecteurs du prestigieux Guitar Player Magazine aux USA en 2008, Pierre Bensusan est un compositeur, guitariste, chanteur, un aventurier de contrées insolites, qui fait partie des rares musiciens français d'aujourd'hui qui jouissent d'une renommée planétaire.
Né en 1957 à Oran, sa famille "rapatriée" s'installe dans la banlieue de Paris lorsqu'il a 4 ans. Il commence l'étude du piano à 7 ans, puis à 11 ans, découvre le Folk, Bob Dylan, et apprend la guitare en autodidacte.
La reconnaissance ne se fait pas attendre et dès l'age de 17 ans, il enregistre son premier album, "Près de Paris", qui se voit attribuer "la Rose d'Or et le Grand Prix du Disque Folk" du Festival de Montreux, en Suisse. Après une constante présence en France dans les "Années Folk", Pierre tourne principalement en Amérique du Nord, dans les pays Anglo-Saxons, dans toute l'Europe ainsi qu'en Asie. Ce concertiste passionné embarque et magnétise son public.
Si l'on fait référence en utilisant le terme "World Music" à une création qui rend hommage à de nombreuses cultures, à travers des couleurs harmoniques et des rythmes distincts, alors Pierre Bensusan est un des musiciens "World" les plus éloquents de notre temps. Il fusionne des sons qui couvrent une vaste géographie et diverses époques, un univers musical qui surprend et opère les rapprochements les plus inattendus, en un tout immédiatement identifiable qui s'impose comme une évidence, "le Son Bensusan".
'Night Song' in concert at the Institute of Musical Traditions (www.imtfolk.org), Takoma Park, Maryland, USA on May 23, 2012.
Plus de vidéos ici →
Photos en haute résolution










Une Introduction A L'Univers De Pierre
Prix et Récompenses
* Meilleur Guitariste de World Music (Guitar Player Magazine Reader's Poll - USA, 2008)
* 2002 AFIM (American Association for Independent Music) Award for Best Acoustic Instrumental Album
* Album du Mois (Journal de Montreal/Canada)
* Album of the Year (fRoots/UK)
* Best Albums (Guitarist Magazine/UK)
* Bravo de la Redaction (Trad. Mag./France)
* Naird Award (USA 1983)
* Grand Prix du Disque Montreux Festival (Switzerland 1976)
Sélection d'Articles et Citations de Presse