Deutsch Press Kit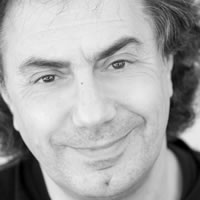 Wenn unter dem Begriff "World Music" eine Musik verstanden wird, die durch Verwendung traditioneller Instrumente, durch bewusst gesetzte Rhythmen, und harmonische Melodien die Menschen überall auf der Welt in ihren Bann zieht, dann kann Pierre Bensusan ohne Übertreibung als einer der eloquentesten und facettenreichsten "Weltmusiker" unserer Zeit bezeichnet werden. Pierre wurde 1957 in Oran - franz./Algerien geboren. Mit Auflösung der französischen Kolonisation fand die Familie 1961 in Paris ihre neue Heimat. Bereits mit sieben Jahren erlernte er das Klavierspiel, als Elfjähriger entdeckte er die Gitarre für sich, stark beeinflusst vom "Revival" der Folkmusic in den USA, in England und Frankreich. Mit 17 Jahren unterschrieb er seinen ersten Plattenvertrag und nur ein Jahr später gewann sein Debutalbum "Près de Paris" den Grand Prix du Disque beim Jazz-Festival im schweizerischen Montreux.
Die L.A. Times würdigt ihn als "einen der weltweit einzigartigsten und brillantesten Veteranen in der Szene der Akustikgitarristen.", der amerikanische "Guitar Player Magazine Readers Choice Award" wählte ihn 2008 zum "Best World Music Guitar Player". Sein Name ist längst zum Synonym für großartige, zeitgenössische Gitarrenmusik geworden, noch bevor Begriffe wie New Age, New Acoustic Music oder World Music entstanden sind. Die erstaunliche Komplexität seiner Werke lässt eine einzige Gitarre wie ein ganzes Orchester erklingen, seine Musik zieht das Publikum in ihren Bann und nimmt sie mit auf eine faszinierende Reise. Doch Pierre beherrscht nicht nur sein Instrument. Ob in seinen gefühlvollen Balladen oder begleitend mit seiner speziellen Scat- und Pfeiftechnik, immer verschmelzen Stimme und Instrument zu einer harmonischen Einheit.
Pierre Bensusan's Musik ist ernsthaft und verspielt zugleich, in seinen Kompositionen und Improvisationen spiegelt sich ein unvergleichliches Gefühl von Freiheit wider. Er steht für Unabhängigkeit und seine Musik geht mit Leichtigkeit über musikalische Stilgrenzen wie World, Klassik, Jazz oder Folk hinweg. Seine Lieder nehmen Anteil an der Welt und es gelingt ihm ein musikalischer Brückenschlag zwischen den Kulturen, wie wir ihn nur selten erleben.Nicht verpassen !
'Night Song' in concert at the Institute of Musical Traditions (www.imtfolk.org), Takoma Park, Maryland, USA on May 23, 2012.
Hier gehts zur Videoauswahl →
Fotos in 300dpi Auflösung für Printmedien










Eine Einführung in die Welt des Pierre
Auszeichnungen
* Guitar Player Magazine Readers choice award, for 2008 Best World Music Guitar Player, in the USA
* 2002 AFIM (American Association for Independent Music) Award for Best Acoustic Instrumental Album
* Album du Mois/Album of the Month (Journal de Montreal/Canada)
* Album of the Year (fRoots/UK)
* Best Albums (Guitarist Magazine/UK)
* Bravo de la Redaction (Trad. Mag./France) 2002/2006
* Naird Award (USA 1983)
* Grand Prix du Disque Montreux Festival (Switzerland 1976)
Ausgewählte Pressestimmen